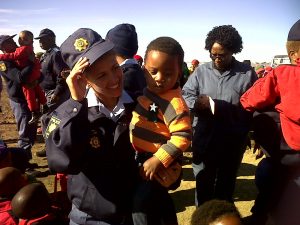 Botshabelo Community Volunteering
Terry Computers and a group of SAPS members from different provinces (Free State: Phuthaditjhaba and Bloemfontein, Kwa-Zulu Natal and Northern Cape) embarked on a project of adopting an early childhood development centre (Creche) in the informal settlement of Botshabelo to help them with whatever may be needed and also celebrating the International Mandela Day with them.  Terry Computers founder and staff together with the SAPS members who were learners at that time took part in social, charitable and environmental activities on a voluntary basis.
Men and women in blue were relating to the human need of helping others and advocate social causes. The purpose, therefore, is for a person to give his/her own contribution for the greater good.
The easiest and more practical form of volunteering is the one meant to benefit the community you live in. That is, going to homeless-relief shelters, children and women to help give food.
A day well spent, where we cooked a very nice soup and we packaged food packs and a snack for them, we had lunch with the children including educators and we donated blankets and a stove to cook and prepare meals for the little ones.
Gogo Day
Terry Computers participated in an important 67 Minutes initiative being conducted by staff, learners and supporters in Katlehong (Khanya Family Centre).
For our 67 minutes we were able to cook lunch for 60 guardians.  The initiative was called "GOGO DAY" , these are grandmothers, uncles and aunties who look after orphans.
3 Soweto Orphanage Homes XMas Outing
Othandweni, Mdeni and Orlando
I had a vision of having orphans from all over Soweto Homes coming together to enjoy Christmas together. We went for an outing at Johannesburg Zoo. There were about 120 children from Othandweni Orphanage Home, Emdeni Orphanage Home and Orlando Orphanage home. All the children were accompanied by all centres uncles and aunts.
We enjoyed our day at Johannesburg Zoo where we were all wearing yellow for a brighter day and had lunch with the support of Pick n Pay and Tshireletso Professional Services.
There were gifts and party packs to give to the orphans on the day.
"As for entertainment activities, children were performing different types of music, dance and drama to entertain one another,"